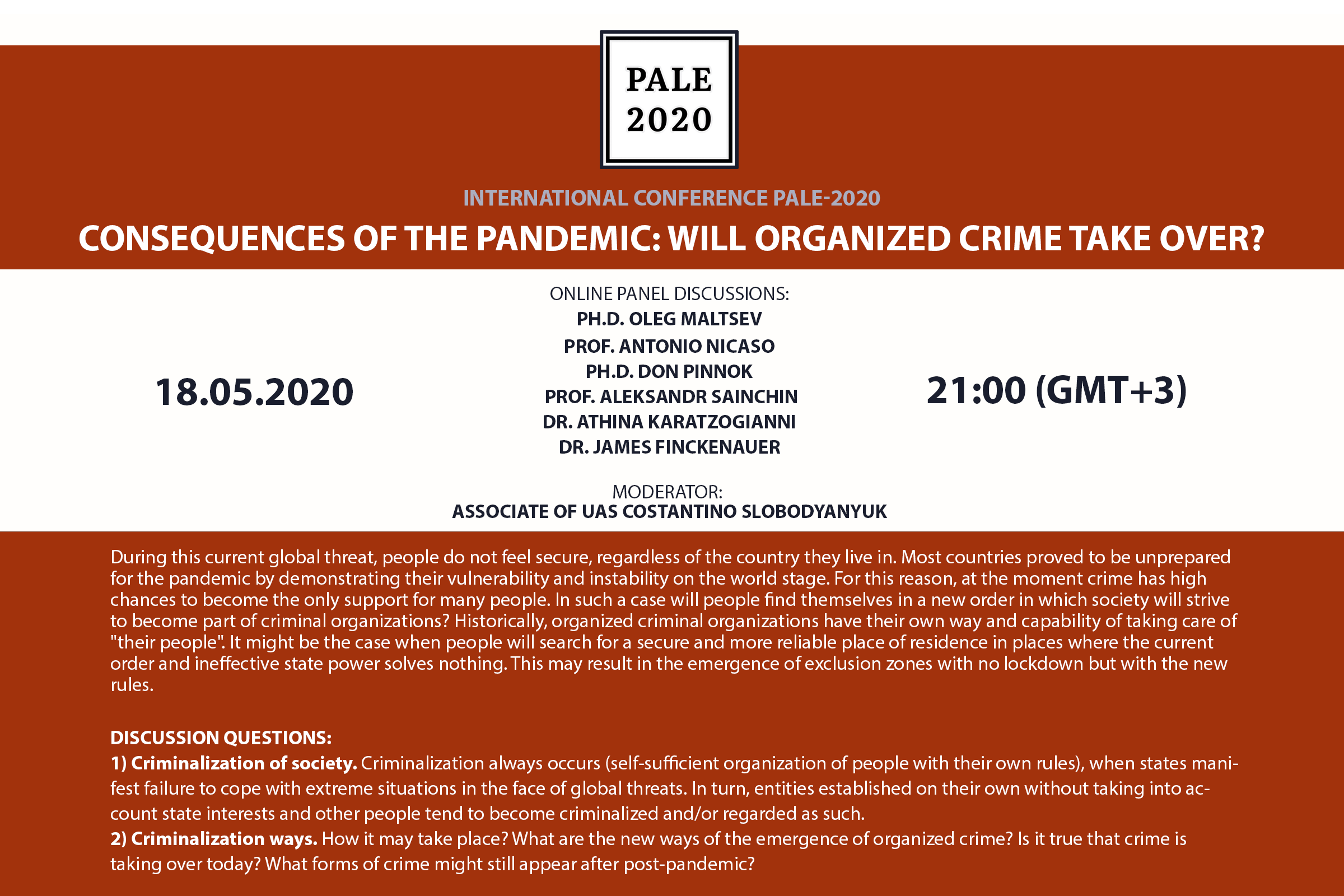 INTERNATIONAL CONFERENCE PALE-2020
CONSEQUENCES OF THE PANDEMIC: WILL ORGANIZED CRIME TAKE OVER?
During this current global threat, people do not feel secure, regardless of the country they live in. Most countries proved to be unprepared for the pandemic by demonstrating their vulnerability and instability on the world stage. For this reason, at the moment crime has high chances to become the only support for many people. In such a case will people find themselves in a new order in which society will strive to become part of criminal organizations? Historically, organized criminal organizations have their own way and capability of taking care of "their people". It might be the case when people will search for a secure and more reliable place of residence in places where the current order and ineffective state power solves nothing. This may result in the emergence of exclusion zones with no lockdown but with the new rules.
1. Criminalization of society. Criminalization always occurs (self-sufficient organization of people with their own rules), when states manifest failure to cope with extreme situations in the face of global threats. In turn, entities established on their own without taking into account state interests and other people tend to become criminalized and/or regarded as such. 
2. Criminalization ways. How it may take place? What are the new ways of the emergence of organized crime? Is it true that crime is taking over today? What forms of crime might still appear after post-pandemic?
Speakers:
Ph.D. Oleg Maltsev
Prof. Antonio Nicaso
Prof. Maxim Lepskiy
Ph.D. Don Pinnok
Prof. Aleksandr Sainchin
Dr. Athina Karatzogianni
Dr. James Finckenauer
Moderator:
Associate Fellow of UAS Costantino Slobodyanyuk
It was broadcasted by "Unbelievable Science" on Facebook, please click here to watch it
Please click here to watch it on YouTube